Kolor's Panotour Pro

Panotour Pro is an easy-to-use virtual tour software.
Panotour Pro includes and uses the krpano viewer to present the panoramas and tours.
Developed by Kolor - the company, how had also made the image stitching software Autopano Pro/Giga.
Includes HTML5 (iPhone / iPad / Android) support.
Panotour Maps Plugin.
A license of Panotour Pro also include a krpano license.

399 €

plus sales tax/VAT*
* VAT: Depending on your location or company status VAT may be added to the price. In the Share‑It order form select your country and enter your VAT/UID number to remove the VAT. The correct price will be shown on the next page in the order form.
Directly download here the latest stable Panotour Pro versions:
Panotour Pro revolutionizes the creation of interactive virtual tours. Everything is done in a few clicks using the software's intuitive interface. Transform your panoramas into multi-views virtual tours by dragging the clickable area (hotspot) of an image onto a target image. The link is created automatically. So now you can create a link between one room and another in a second. Display a photo, video or embedded web page, play a sound, open an external website, display contextual information and animations and more to customized your tour.
Feature List
Export of the virtual tours in Adobe® Flash® format
Quick export of virtual tours (conversion in .SWF)
Unlimited number of panoramas
Support of full 360° panoramas
Support of partial panoramas
Automatic FOV detection
Display of a custom logo
Handling of giant images (gigapixels)
Import and export of cube faces
Little Planet intro effect
Global sound for the tour
Local sound for each panorama
Customization of the contextual menu
Adding of a branding-free license (option)
Custom map of the tour
Panotour Maps
Export XML files for advanced customizations
Export virtual tours for mobile devices (iPhone®, iPad®)
Customization of the fonts (color, bold, italic, size)
Customization of the hotspots' colors
Integration of HTML pages
Support of hotspots opening a video and embedding of videos
Adding of graphic templates and menu templates
Adding of transition templates
Available in 7 languages (English, German, French, Italian, Spanish, Polish, Russian)
Compatible Windows, Mac, Linux
A license of Panotour Pro includes a krpano license. The krpano license makes it possible to use the krpano viewers and tools directly. To get the krpano license, it need to be exported from your registered Panotour Pro version:
1. Start Panotour Pro, open the
Help
menu and select there
Licenses
:
2. Then press
Export Licenses
and select a place where to save the krpano licenses: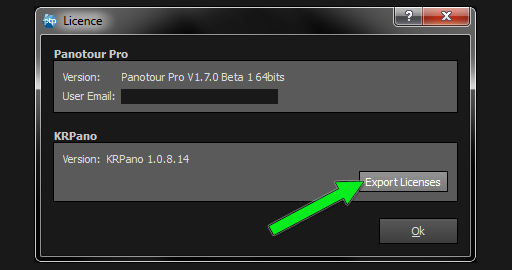 3. Finally copy the krpano licenses (krpano.license, krpanotools.license and krpanoiphone.license.js) into the krpano tools folder to use the krpano tools / droplets or just use the viewer licenses directly.
It's possible to use the
krpano Branding Free License
also in Panotour Pro. But the way how to select / to register it in Panotour Pro is a bit 'hidden' or not so obviously - so here the steps, how to select / to register the krpano Branding Free License in Panotour Pro: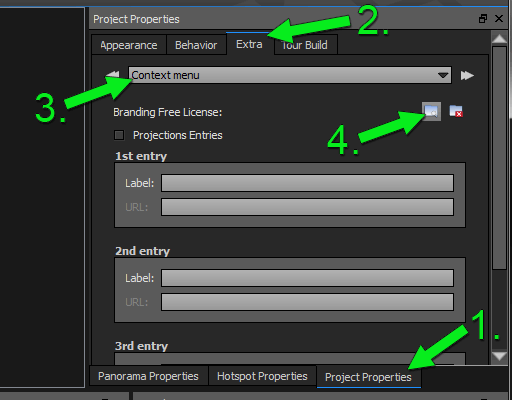 1. Select
Project Properties
in the lower tab menu.
2. Select the
Extra
tab.
3. Select the
Context menu
item in the option box.
4. Click on the
file-open-button
and select the
krpanobrandingfree.license
file.