CMS4VR system
Spacery Wirtualne Piotr Jakubowski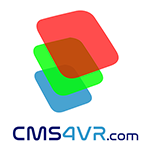 CMS4VR system opens up a whole new stage in creating professional virtual tours and 360 VR projects.
Our goal was that the cost of CMS4VR in standard versions should not exceed the price of 2-5 panoramas. Yes! Just enough. This means that you only need to invest the cost of several panoramas to have a CMS4VR license for a lifetime without any additional fees!
CMS4VR is a powerful tool, based on the krpano engine, for creating modern virtual tours. You have dozens of advanced and proprietary components at your disposal that will make your every project unique.