Responsive Scrollable Grid Photo Gallery
rsgp_gallery.xml
for HTML5 & Flash
by Maël Bathfield - contact@maelbathfield.net

A photo gallery to smartly show 'classic' photographies.
The idea that led to the conception of this
Responsive Scrollable Grid Photo Gallery (RSGP Gallery)
was to go over the classical "thumbnails + one-photo display" layout.
At the opening of the gallery, all images are arranged in a responsive grid (with a minimum of 3 columns), and then a click on a picture changes the gallery into a one column scrollable layout displaying enlarged images. At any time, clicking again on an enlarged image permits to go back to the initial grid gallery.
Can handle any size and ratio of source images (automatic downscaling).
The images are never upscaled.
Dual source images : possibility to use smaller images for mobile devices and larger images for nice display on large desktop screen.


Images for mobile must have the suffix '_s' (i.e. if url is 'img/myimage.jpg', a smaller image named 'myimage_s.jpg' must be in the same 'img' folder).
Automatic check for existence of smaller images.
If they do not exist, source images cannot be too large/heavy for avoiding memory overcharge on somes mobile devices.

Preloading process of images with loading progress bar for each gallery.
Various orientation pictures can be used in a same gallery.
Easy integration in virtual tour (see section 'Syntax / XML Usage Example' above).
Choice for the arrangement of grid gallery : fixed number of columns or fixed width for images.
Responsive layout : in 'fixed width' mode, if it is not possible to display at least 3 columns, it's switch automatically in 'fixed number of columns' mode (with 3 columns).
In 'fixed number of columns' mode, the number of columns is automatically decreased by 2 unit on mobile devices.
Max. 999 images per gallery; Max. 99 galleries per pano/scene.
Independant parameters for each gallery : arrangement mode in the grid gallery, background color, size and color of images boder, display or not of various titles.
Double image title management (short_title/second_title).
Helping messages (displayed once).
Integrated slideshow function (automatic scrolling).
Minimal design option for more space to display enlarged images.
Testing Comboboxes: change the arrangement of the images before choosing your prefered parameters.
[After changing the displaying mode (with the left combobox), confirm change by selecting a new value with the right combobox (displaying 'Row number' or 'Max image width')]
Initial grid gallery with landscape photos in 5 columns.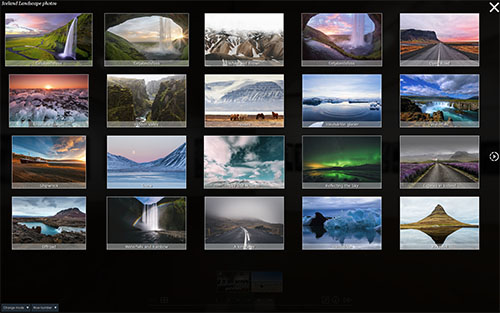 Enlarged image in the one column scrollable layout.
Initial grid gallery with portrait photos in 5 columns.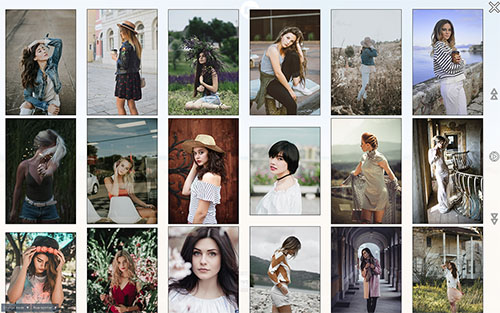 Initial grid gallery with various images ratios in 6 columns (
minimal_design="true"
).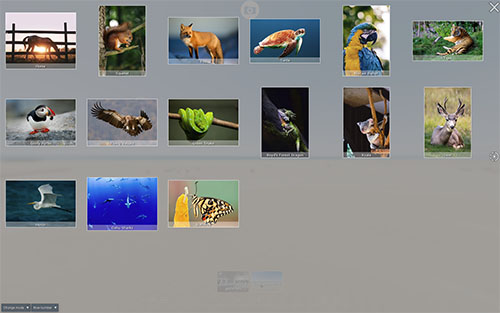 The plugin price is €40
The zip-archive 1 includes the ready-to-use simple example (including reduced images) and off-line documentation (~ 1 Mo).
The zip-archive 2 includes a more complex full example (including reduced images), and off-line documentation (~ 2.4 Mo).
After payment, I will send the 2 archive files (with a link to download 17.6 Mo of full-size images from the on-line complex example) to your e-mail within 24 hours.
Simply copy all the files included in the 'plugins' folder of the simple example into the 'plugins' folder of your tour.
Among these files, there are the following free plugins from krpano-1.19-pr14: scrollarea.js/.swf, showtext.xml, combobox.xml.
There is also the free plugin coded by Jordi Vallverdú (version of February 13th 2018): file_exist.xml
Take care to do not overwrite these files if you have some more recent ones in your 'plugins' folder.
Most of the plugin attributes are optional, but they allow a quite advanced customization for the final layout of the galleries.
GLOBAL ATTRIBUTES for galleries:
SPECIFIC ATTRIBUTES for each gallery:
gallery.display_slideshow

true : display a play button on the left to launch a slideshow.
See global attribute 'slideshow_time' for timer value.
Default = false
IMAGES ATTRIBUTES:
OTHER POSSIBLE CUSTOMIZATIONS: modify the content of the 'rsgp_gallery_style.xml' file.
CLICK TO VIEW SIMPLE EXAMPLE
See the
RSGP Gallery Plugin Thread
in the Forum for a
more complex example
with multiple galleries integrated in a virtual tour.