Notes for using the krpano Flash viewer locally / offline
When using the Flashplayer locally / offline, then the
External Interface
of the Flashplayer is disabled for security reasons by default.
When using the Flashplayer 'online', that means when running the Flashplayer on a 'http://' address (can be also a 'localhost' server), then the
External Interface
is always available.
This
External Interface
is necessary and important for many things:
The krpano viewer will show this warning in the krpano trace log when it is not available:
WARNING: ExternalInterface NOT available
Additionally it's possible to check interactively if the interface is available via the
haveexternalinterface
variable.
To allow a local running Flash program using the External Interface, the Flashplayer provides the so called trusted folders. Flash files inside these trusted folders can use the External Interface also locally. To add own, custom folders to these trusted folders see the following instructions:

Chrome Browser Note - the integrated Flashplayer of the Chrome Browser currently has a bug and ignores all custom Flash Player Security Settings! There it would be necessary either to disable the integrated Flashplayer (by using this url - chrome://plugins - click on 'Details' and deactivate the 'PPAPI' Flashplayer), or to use a localhost server for local testing.
Open this link:
http://www.macromedia.com/.../settings_manager04.html
Note - using the link from above to change the settings is highly recommended!
Newer Flashplayer versions are allowing to edit the trusted folders also from the right-click 'Global Settings' menu, but in some Browsers this is partially buggy and the settings will be not applied correctly. Therefore always use the Online Flashplayer Settings Manager to change the settings!

Screenshot: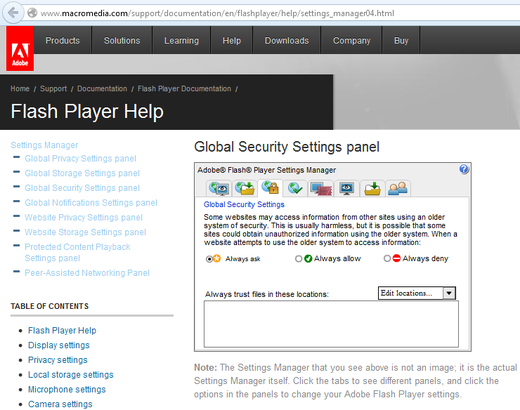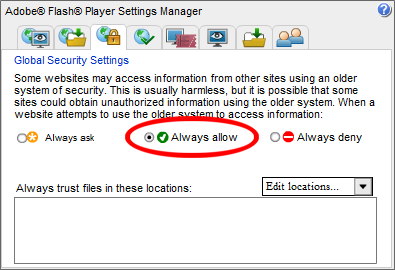 Select
Browse for folders...
and look for the folder which contains the Flash .swf file and select that folder, then click
Confirm
.
Note - Selecting a higher-level folder or the root folder itself is possible too, all sub-folders will be automatically trusted too!
Verify if the folder was added correctly and the 'green check' is still shown at the 'Always allow' option and at the added folder. To apply the settings, just reload the settings page.
Note - the some browsers need to be restarted before the changed settings will work!